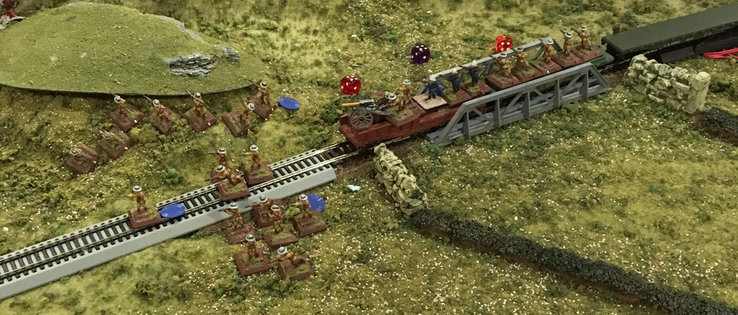 AS THE TRAIN CROSSES THE BRIDGE, THE TWO LEFT-FLANK ZÜGE SPLIT UP:
ONE ZUG MOVES AHEAD OF THE TRAIN AS AN AVANTEGARDE ("ADVANCE GUARD"). IN FRONT OF THIS ZUG IS A SOLITARY FIGURE: THE OVERALL COMPANY COMMANDER OF THE GERMAN FORCE,  LEUTNANT DER RESERVE VOIGTS. VOIGTS IS LEADING HIS FORCE FROM THE FRONT.
THE OTHER LEFT-FLANK ZUG TURNS RIGHT AND HEADS FOR THE HILLS, LOOKING FOR CONCEALED HERERO RIFLEMEN IN THE ROCKS.